Off-shore LED lighting for heavy lifting vessel

The HLV Gulliver is one of the two Heavy Lift Vessels of Scaldis from Antwerp (BE). Recently, this offshore work ship has been equipped with DCbright professional LED lighting.
This workship is used for offshore infrastructure activities such as construction and dismantling activities in deep water, for the oil and gas industry and the installation of offshore wind farms. In addition, the HLV Gulliver is used for any type of heavy lifting in challenging situations, such as when building bridges and clearing shipwrecks.
In total, two DCbright Barracuda LED lamps are mounted under the helipad. These lamps with 69º lenses now illuminate the entire deck at the front of the ship.
Installed number of lumens
29.500 lumen per lamp
59.000 lumen totaal
Power absorbed
240 watt per lamp
480 Watt total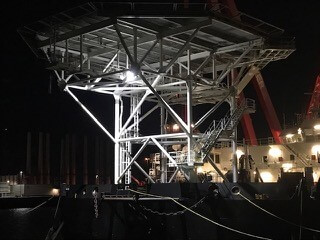 DCBright heli-platform LED floodlights

DCBright heli-platform LED floodlights